DNA-based Food Traceability & Safety Solutions
Protect and elevate your brand image by creating total supply chain transparency
DNA-based Food Traceability & Safety Solutions
Protect and elevate your brand image by creating total supply chain transparency
Harness the power of DNA to answer your toughest questions.
Do you need to create transparency across your supply chain? Protect your brand against adulteration? Stand out against your competition? Secure your customers' loyalty? Then full DNA-based transparency is what you need. Be ahead of the game and utilize what modern food genomics has to offer. Gain total control over your supply chain through next-generation sequencing and state-of-the-art DNA analysis. There's no room for food fraud and adulteration in your business. Join the DNA revolution now.
Authenticate your products with DNA AuthenticityTracker
We use a range of different DNA testing methods on pure or mixed samples in order to help you:
Identify the animal / plant species in your raw materials and products
Secure your products against food fraud
Confirm your products are not adulterated
Trace your meat with DNA SourceTracker
Using a proprietary method with next-generation sequencing (NGS), we help you:
Trace the origin of your meat with the highest precision back to the individual animal
Eliminate adulteration across your supply chains
Stand out against competition
Elevate your brand image & loyalty
Investigate contaminations with DNA PathoTracker
We use state-of-the-art NGS technology (next-generation sequencing) to give you unrivalled information on any contaminations that might occur in your supply chain or production facilities:
Know the source of your contaminations
Identify the exact strain of the food pathogen
Secure your global production lines
Eliminate risks of costly recalls
Maintain brand image
What products do our services apply to?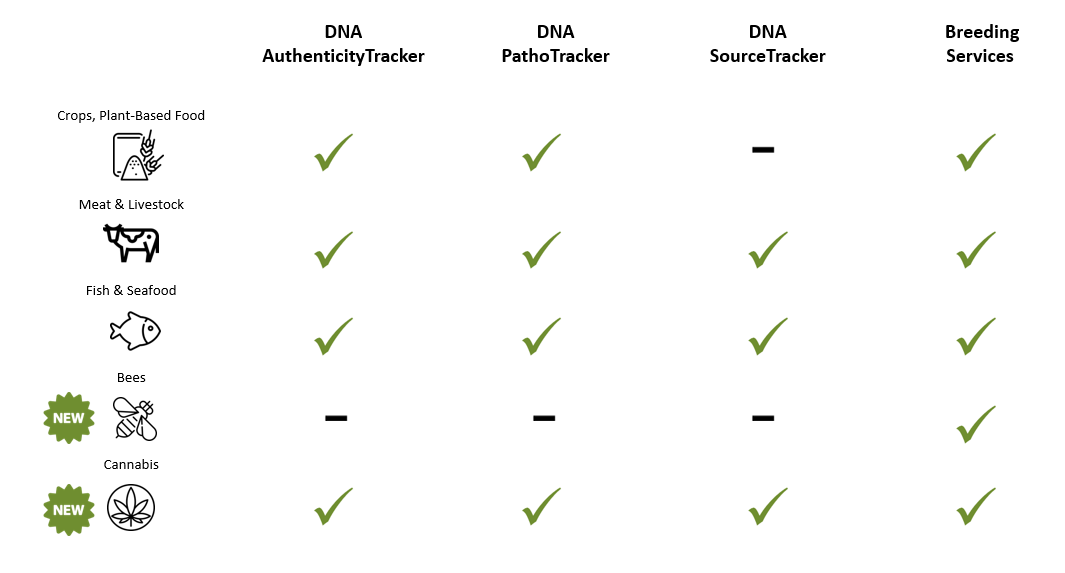 Eurofins Genomics. Certified and accredited.
Reliable and validated analytical methods
Ready to protect, secure, and revolutionize your brand?
Then get in touch with us.